Dropping the 'i' of irrelevancy and a thousand threats of caging the 'art', Padmaavat finally made its way to the theatres. With larger than life sets and costumes and a grandeur of unnecessary drama, this Sanjay Leela Bhansali's Magnum Opus was released on 25th January. If you're the ones who missed this epic saga, here's a Padmaavat review for you.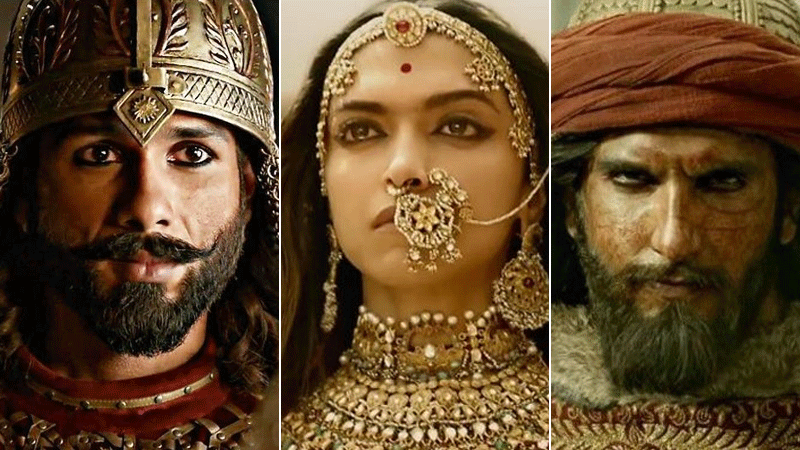 Padmaavat review
Story Line:
Padmaavat is based on a Sufi poem of the same name written in 1540 by Malik Muhammad Jayasi, dressed up by Bhansali. Queen. Padmavati (Played by Deepika Padukone) is known for her exceptional beauty and a strong sense of justice and is the wife of Maharawal Ratan Singh (played by Shahid Kapoor) and pride of the Kingdom of Chittor, a kingdom in the north-west of India. The legend of her beauty reaches the reigning sultan of Hindustan – Allaudin Khilji. The Sultan who is a tyrant is fixated on wanting anything that is of exceptional beauty for himself. Then starts a tale of greed and obsession, that ultimately results in nothing. Queen Padmavati chooses to sacrifice her life, instead of her honor.
Padmaavat Review:
As many moviegoers termed this, this film could have easily been called "Khilji". Although, both Deepika and Shahid do complete justice in playing their roles. Deepika beautifully portrays the valor of a Rajput woman who thinks on her feet and is ready for any challenge that might come her way. shahid brings the much-needed royalty and pride as a Rajput warrior. The chemistry between the two of them is sizzling. However, Ranveer's portrayal of Khilji totally overshadows the parts of Deepika and Shahid. He stays true to his nature of the unhinged beast.
The visuals are really a feast to behold. The stunning historical sceneries give the experience of a lifetime.
However, it seems at one point Bhansali just overkills it. The film time could've been much shorter, given some unnecessary scenes that just seem like a burden would be cut off. As much great the songs are, they're just an eye candy and no help to the narrative.
Still, the viewers seemed to have showered great love on this controversial (a word that on this point almost means nothing) film. The film after hitting so many roadblocks has finally paid off. The total collection of Padmaavat crossed 124 crores on day five. It makes it the first movie for Shahid that entered the 100- crore club. Keeping in the mind the fact that this movie was not released in a few Indian states, the collection is a big hit for the movie.
As they say, no publicity is bad publicity, Padmaavat is a live example of that. The violence and threats and the destruction definitely made it difficult for the filmmakers, but at the end of the day, it also made sure everyone knew of it.
Nevertheless, it is safe for us to say that Padmaavat is a movie filled with loads of drama and royalty and valor and strength and, wait, go watch it yourself. We'll not spoil it for you.
This site is using SEO Baclinks plugin created by
Locco.Ro